Find your best place to live.
Considering moving? We can help you find YOUR happy place. Discover options you've never thought of or get more insight into ones you're already considering.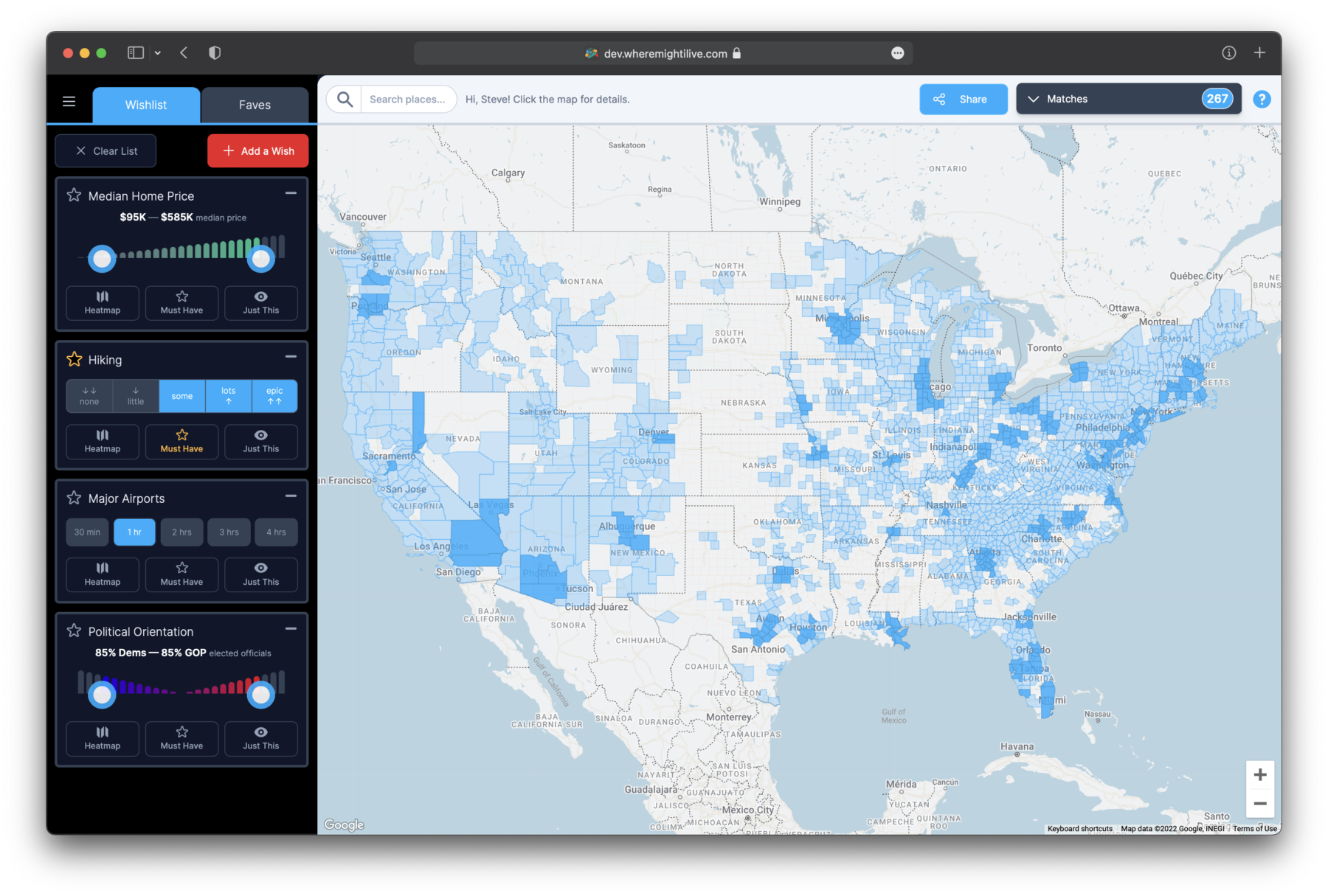 A simple and fun way to find your happy place.
If you could live anywhere in the U.S., how would you find it? Let us guide you by matching your personal wishlist against our caringly curated datasets. We'll help you narrow the options and have a great experience to boot.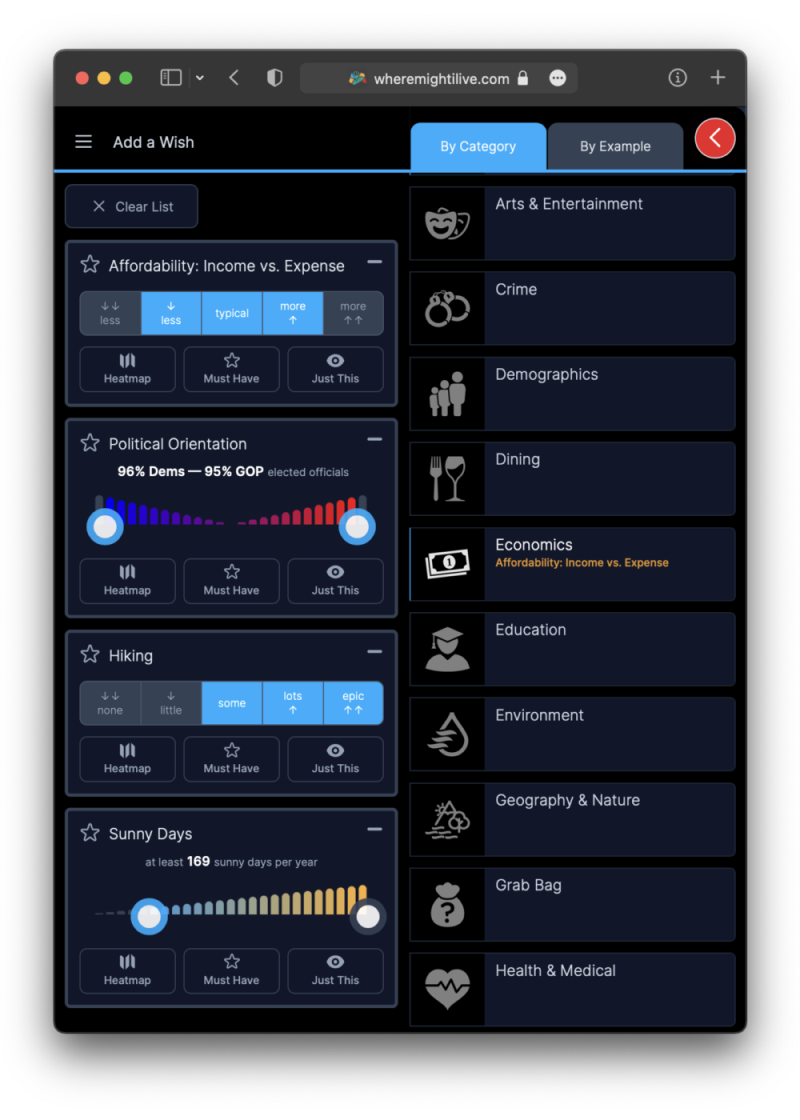 Build your personal wishlist
Choose from 21 wish categories ranging from Activities to Weather and Economics to Politics. Tell us what's important, or we'll help you figure it out along the way.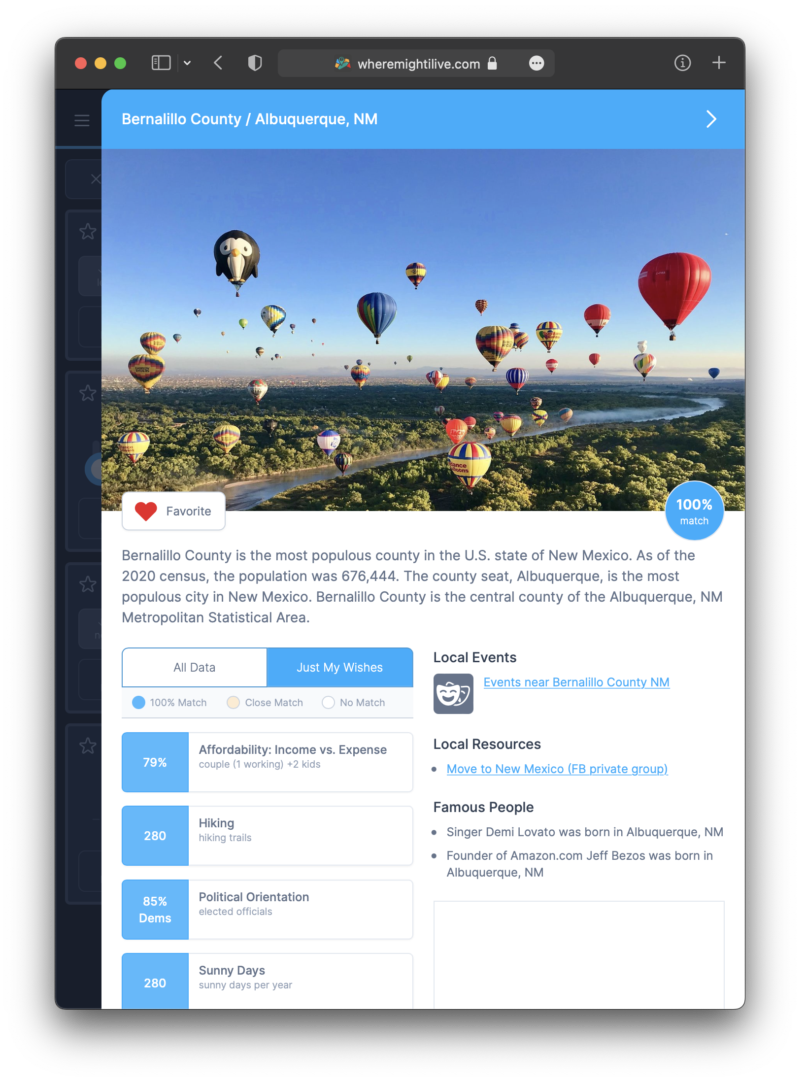 Discover places you'll love
We'll light up the map with all the places that match your wishlist, either fully or partially. Then explore them further with detailed profiles, and build up a list of faves as you go.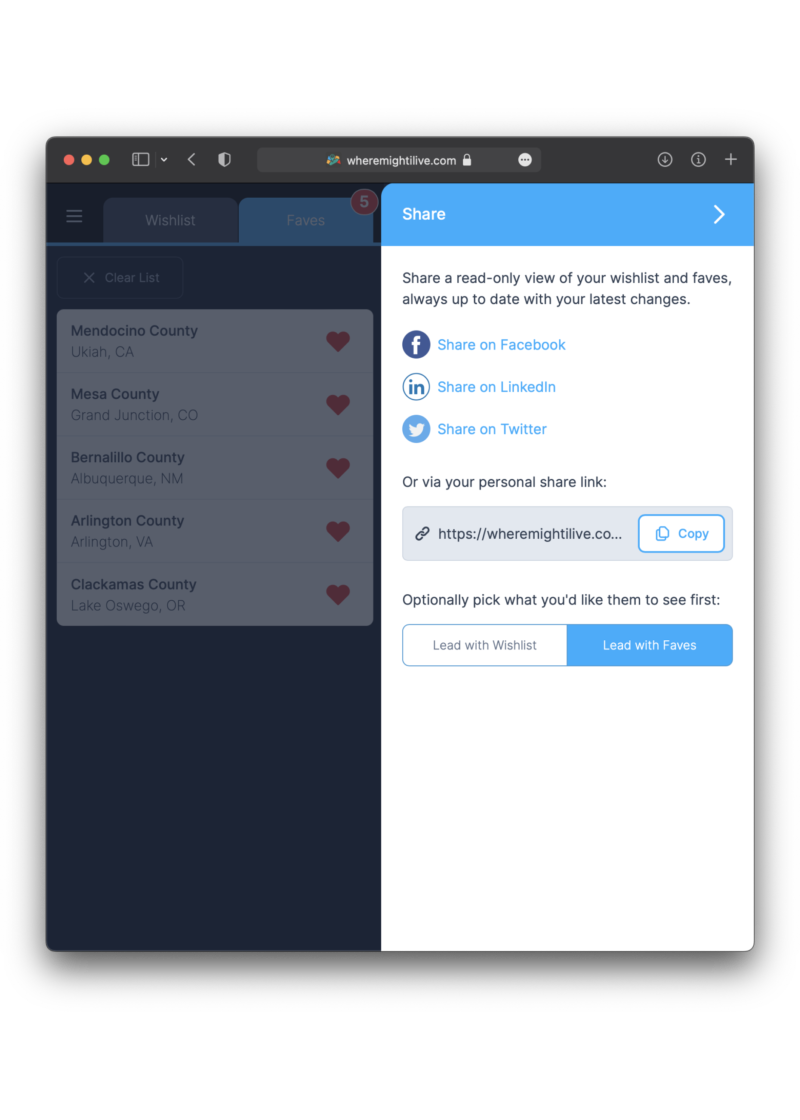 Get input from family & friends
Share your results with your spouse or partner, or get input from family and friends via your private share link.
Explore, discover and research.
Relocating is a big decision, but our tools make it fun to immerse yourself in the possibilities.
Find by Example

Do you love where you live now? Would it be better to have less crime, lower taxes, or more sunshine? Find places similar to your current home or anywhere else you already like.

Data Galore

Affordability, sunny days, fire ants, dog-friendly rentals, tornadoes, taxes, we've got it all! Over 200 datasets in an easy-to-use format to help find what's important to you.

Fuzzy Matching

Few places check ALL the boxes. Percentage rankings help you make your best tradeoffs.

Must Haves

Let us know which criteria top your list, and we'll weigh them higher in your results.

Heatmaps

Want to know where the muggiest areas are? You can see those results, or any of our datasets across the whole country in a single image. These are fun!

Local Resources & Events

You'll find curated links to news and goings-on in the places you discover, plus groups looking to move to the same areas, so you can ask questions of those on the same journey.
All the data. All in one place.
We've curated over 200 datasets so you can zero in on what matters most.
Frequently asked questions
Do you cover only the U.S.?

Yes. At this time, we are focusing strictly on the 50 states.

Can I use this on my phone?

Yes, sort of. You can use your phone in landscape mode, but it's not a very good user experience. Since there is so much information, for the best experience we recommend using a computer or tablet.

Where do you source your data?

We seek to use the most current and reliable sources we can find, including government, university, and reputable private sources. We cite the reference in several cases and offer links to explore further.

Do I have to create an account to use this?

No. If you simply want to browse, you're welcome to poke around. However, if you want to (1) come back later without losing your progress, (2) save a favorite, or (3) share your discoveries with friends & family, you'll need to create an account. Also, if you want to dig more deeply than just a few wishes, you'll need an account.

Can I suggest an additional dataset?

Absolutely! Especially if you can also provide a data source. We are trying to balance satisfying everyone's data requests while keeping the wishlist manageable.

Is there an app for Android or iOS?

Not currently, but we are evaluating that option.

How long will this take to complete?

It could take less than a minute if you know what you want and your requirements are few. However, if you have many requirements or are insatiably curious, you could spend an hour exploring the options. So much to see!

Is this only for people who plan to move?

Not necessarily. Some use WMIL to discover places they would like to visit. Maybe someday it will be their home, but many simply enjoy exploring.

What if I like where I live?

Lucky you! But what if there was a place like where you live now, with lower crime, less traffic, more sunshine, lower taxes, or??? You get the idea. It doesn't hurt to look!